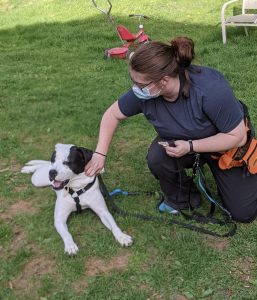 You work a full-time job.  You wrangle the kids.  There's laundry to do, groceries to buy, meals to cook.  The dog keeps acting up,  so someone has to teach them some manners.  Good thing you want to become a dog trainer!
Wait — you don't?
Guess what.
THAT'S OKAY.
We became dog trainers so you wouldn't have to.  And while we love teaching you how to handle these situations, it's okay if you don't want to learn.  It's okay to feel overwhelmed, or out of time, or just not into it.
It's okay, because we can do it for you!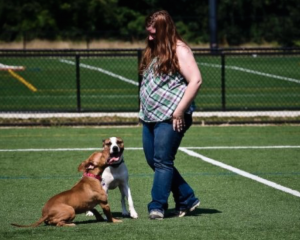 With our special Matinee program, we can teach your dog the manners you need them to have, change some behaviors you don't want, and do it all while you're doing what YOU want to be doing – anything but training your dog.
From basic obedience and household manners to many of the behavior issues you struggle with daily, like leash reactivity, mouthiness, jumping, and more, we can do the legwork of training your dog, in the comfort of their own home, and then do a quick Encore session to catch you up on how easy it will be for you to maintain the behavior.
Once we've decided how many visits per week best fit your needs, we'll not just take care of your training concerns, but provide some midday exercise and potty break – taking one more worry off your overloaded plate.
You'll start by speaking to our trainers about what your goals are, and what behaviors most drive you crazy and make your life harder than needed.  Once we have that starting point, we can briefly discuss package options, and get started!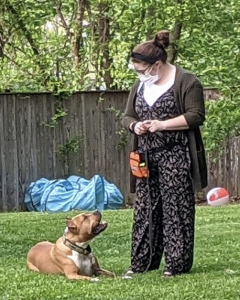 Your trainer will come by your home while you're at work.  Your dog will get a brief potty break, and your trainer will spend most of the time focussing on the training goals you set together. You'll come home to a dog that has been mentally and physically enriched, making them a little less energetic for your evenings, and bringing them one step closer to the dog of your dreams!  After a few training sessions, you'll meet with your trainer again, this time for a brief Encore session, letting you know how you need to work to keep the new skills solid and up to standard.  This may include quick explanation of the cues we used, and what rewards work best, and may also trouble shoot some management issues.  You'll have a little to do, sure, but it's minimal, and will become easy habit for you rather quickly.  You're more like the substitute teacher that gets to hand out a pop quiz and some candies than the full time teacher who has to explain advanced calculus.
So let's go! Want your dog to walk better on leash? Respond better to your cues around the house? Even act better at the vet (and maybe get taken there by your trainer rather than you having to take time off?) Fill out our form here and sit back and relax – enjoy the show!
Don't want training every day, but your dog still needs a break?  Check out Wild Walks – a walk in nature that gives your dog a chance to decompress and relax.
*PLEASE NOTE: AT THIS TIME WE ARE ONLY ABLE TO OFFER THIS SERVICE TO BALTIMORE CITY.
IF YOU ARE OUT OF THIS AREA, PLEASE CONTACT US FOR OTHER OPTIONS OR IF YOU WOULD LIKE TO BE PUT ON A WAIT LIST AS WE EXPAND OUR RANGE**