I hate to be obvious," added the Scarecrow, "but you'd have saved yourself a heap of trouble if you weren't too cheap to invest in a leash, Dorothy. – Gregory Maguire

Whether you're dealing with a dog who can't be crated, multiple animals, or even dogs with new babies, there are likely going to be times that you want to restrain or control your dog safely, but won't have the ability to have them leashed to you.  Tethers are a great option here.  Often you'll see suggestions to attach these long lines to a stud in your wall, or the baseboards along your floor, but that causes obvious damage to your home, and that may not be possible for a variety of reasons, such as rental properties.  Plus, if you don't get the location right the first time, that's more damage, and before long your room looks more like Swiss cheese than a wall.
A great fix to this is a tether that can be affixed to any sturdy door, or even heavy furniture. In the past these were available online, but as they're getting harder to find, we've written up a little "how to" so you can cheaply and easily make them yourself.  You'll be surprised at how simple this is, and extremely inexpensive as well.  We used our homemade version to keep the dog from having access to our baby's bassinet when she first came home from the hospital and we were nervous and sleep deprived new parents.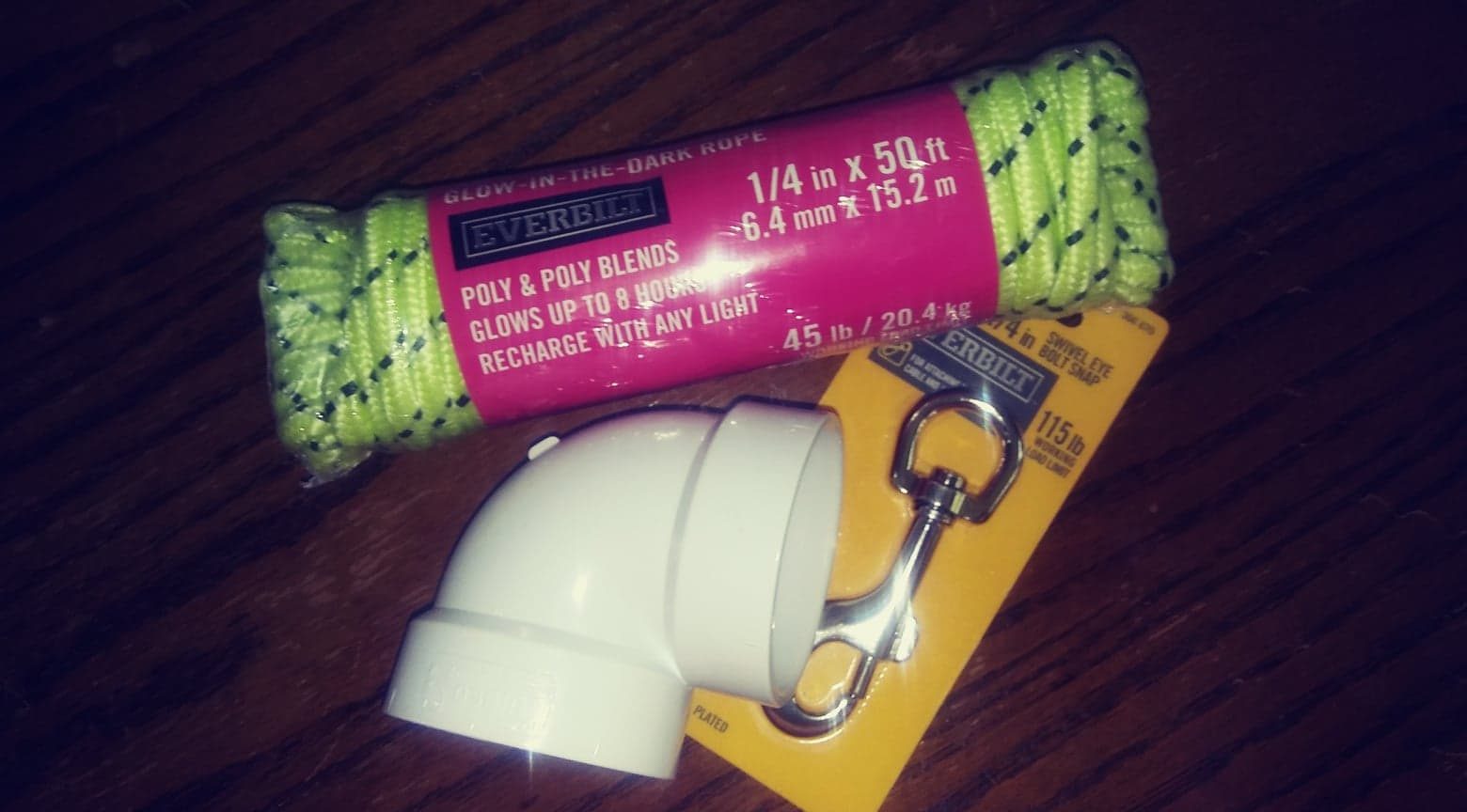 For today, I purchased all new supplies, racking up a whopping twelve dollars of expense, and I even splurged and got the glow-in-the-dark rope.
Your price may vary depending on the PVC, rope, clip, or other adjustments you make.  You might use a block of wood with holes drilled in it, a custom leash, or skip the clip and tie the rope directly to the dog.  The options are virtually endless; the only rule is security.

So now the actual "How to" portion of the tutorial.  Are you ready?  Don't blink – it goes by fast.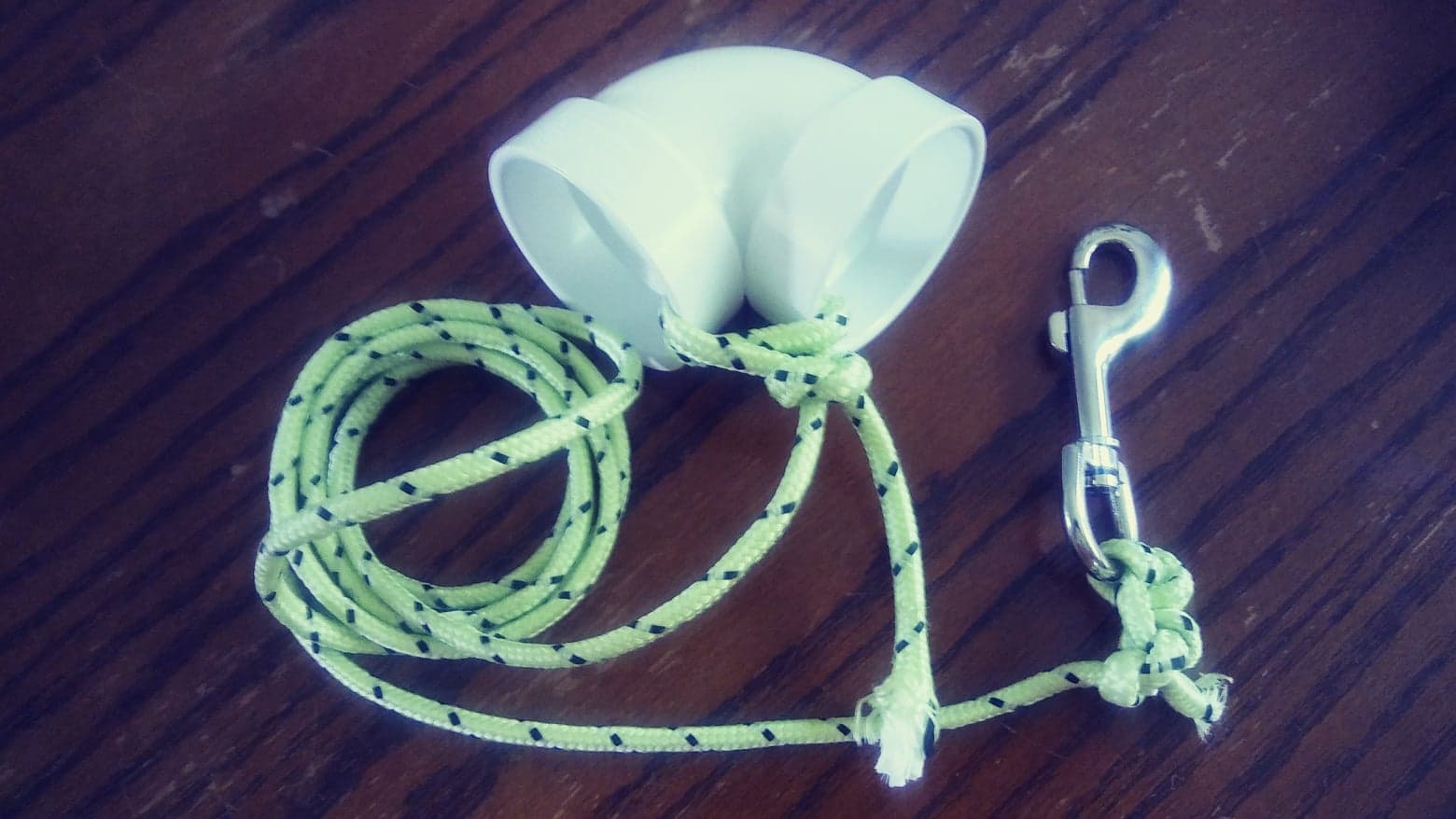 Measure how long you want your rope to be from the door to any temptations you want to keep your dog from.  Knock roughly six to twelve inches off that length – it doesn't have to be exact from here, you just want it short enough that a straining dog won't succeed in their mission. Tie one end of the rope through the PVC, and the other to your clip.  There are dozens of knot tutorials on YouTube.
For extra security, if you feel you need it, you can whip out a needle and thread and draw a few stitches through the rope.
OR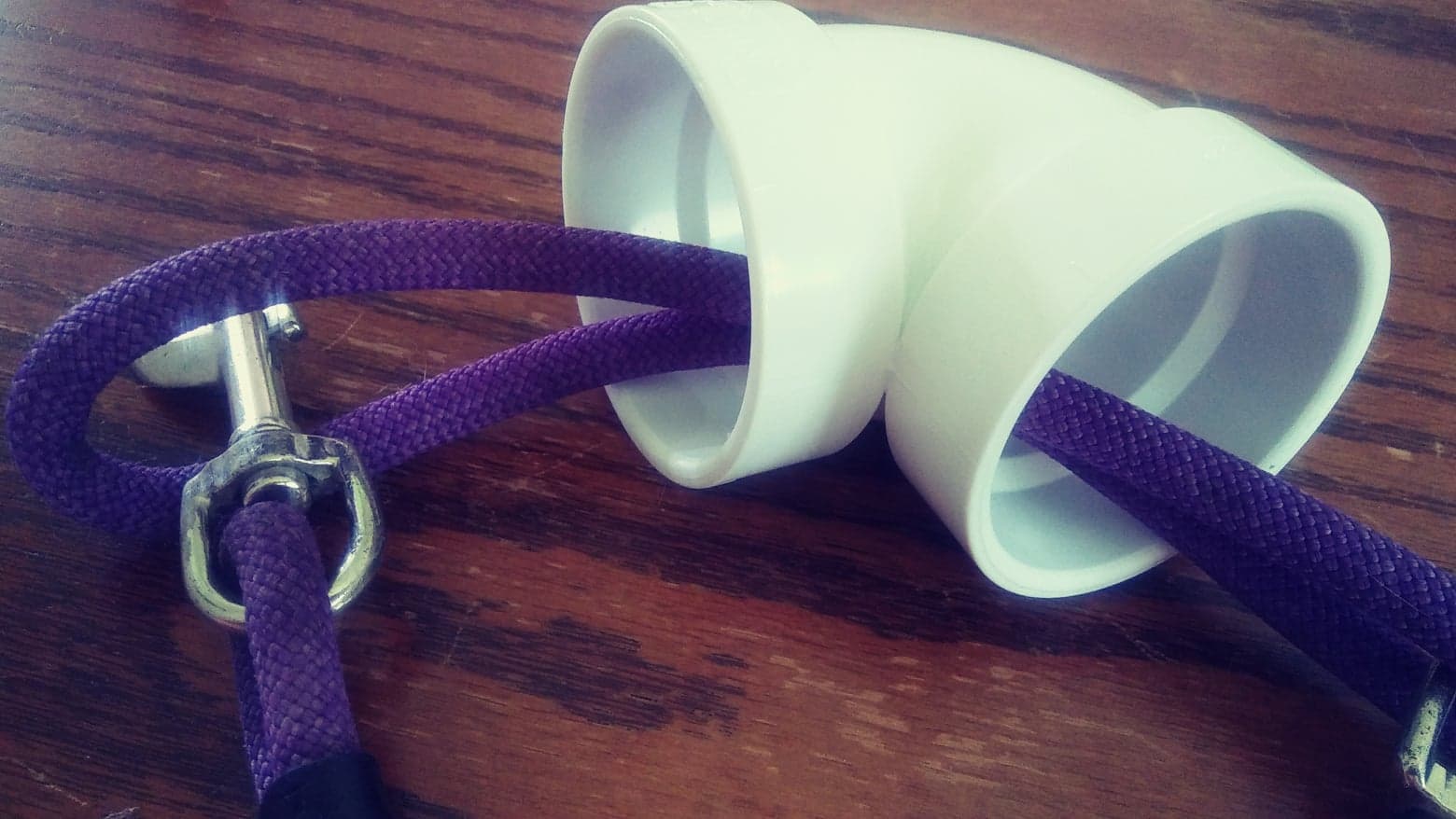 Thread your leash through the PVC, then thread the clip through the handle.
That's it – you're done!
You want to take a peek now and then to be sure the leash isn't rubbing thin, but otherwise, you've made yourself a portable tether.  Good job!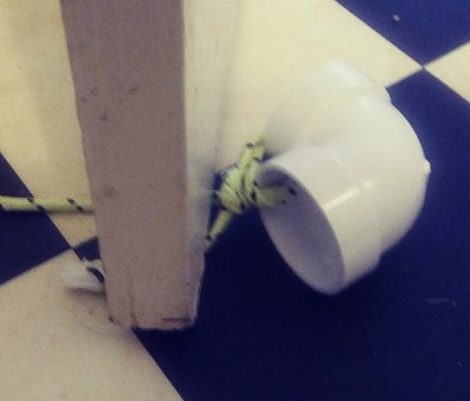 To use your fancy custom tether, simply put the PVC on the outside of the door in the room where the dog is and close the door.  The PVC anchors the tether, and the dog is restrained safely, and without damage to your home. The whole system is cheap enough you can easily make several so you're ready in each area of your home, and you can even keep a little section of PVC in your travel bag so your dog can be secured in hotels or other homes you visit.