People like us – they really like us!
Here's how we know: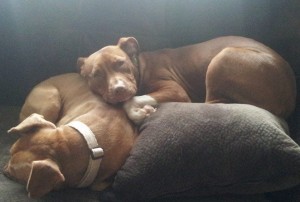 Amie is a trainer of the highest caliber, one who values continuing education and creating wonderful relationships, not only with her clients, but between her clients and their dogs. Cannot recommend enough!

Lori Nanan, CTC, founder Your Pit Bull & You
5 star review on OWB Facebook page
Amie's support in integrating an adult cat into a multi-cat household has been invaluable!  Our current pets were not being very welcoming to a new cat, even after attempting a slow integration over several months.  Amie helped us create a solid and reasonable plan for building positive associations between our cats.  She made recommendations to make our home more pet-friendly and shared useful information to further explain everything we discussed in person.  Within 2 weeks, we have seen a noticeable change in everyone and we are making steady progress towards having peacefully co-existing pets!  I would highly recommend Amie of Oscar Winning Behavior to anyone who is feeling frustrated by cats who are not getting along!

Heidi & Louie (and crew!)
5 star review on OWB Facebook page
Amie worked wonders with my tiny terror! He went from being reactive with every dog he met on walks to making his very first doggy friend! Going on walks has become so much less stressful for me. If you have a reactive dog I highly recommend Amie and Oscar Winning Behavior!

~ Liz & Clyde, students of Reactive dog class
5 star review on OWB Facebook page
Amie is an excellent trainer! Our pom/sheltie mix, Sunny, had become reactive to other dogs and some people—barking (sometimes even scream-barking) at everything. The reactive dog class helped us learn how to handle and redirect it to make life easier for all of us. I never imagined we'd be able to take him to the beach (around other dogs and with another family who stayed with us), but we were able to and it was wonderful for everyone (including Sunny). Thank you so much for your help, Amie!

~Jaz & Sunny, students of Reactive dog class
5 star review on OWB Facebook page
My family adopted a 2 year old dog, Coley, last fall. We soon signed up for Amie's reactive dog class, because Coley is very fearful of other dogs. Being near another dog sent her into a snarling, lunging, barking frenzy. This morning, Coley and I came upon three dogs in close proximity to us and passed with zero lunging, zero snarling and zero barking (except from the other dogs). Coley was still anxious, but much calmer than months ago. One of the things I value so much about Amie and her approach is how she affected my personal confidence. A few months ago, a walk by three dogs would have made me extremely nervous. I would have worried and dreaded and merely hoped for the best as my snarling, lunging dog made herself known. Now, I feel so much more relaxed when presented with a situation like this morning. Now, I know what to do! And Coley and I both come out of it in a much more positive way. Thank you, Amie, so much for all you have taught us and for helping me progress to a place where I feel I can calmly manage what is happening.

Cara & Coley, students of Reactive dog class
5 star review on OWB Facebook page
Amie is a very knowledgeable positive reinforcement trainer! She really knows how to explain things in a way that people can understand why their pets do the things that they do, and help people and pets work together to have a happier life. I would highly recommend her for cat or dog training!

~Maegan & Vegas, students of Reactive dog class
5 star review on OWB Facebook page
Amie is simply wonderful. At around 5 months, my puppy started reacting at random to other dogs and sometimes people on walks. At the time I was enrolled in a puppy class at the MDSPCA and the equally amazing trainer who led that class recommended that I get in touch with Amie and I'm so grateful we found her! It was rather unsettling to see my usually floppy, "happy go lucky", goofy guy start reacting so severely to things that didn't seem to faze him in the past – and as someone who had never really had to work through reactive issues with dogs before, I felt unequipped in understanding why my little guy was behaving such and how I could address it. Amie took the time to really explain the science behind reactive behavior and went to great lengths to go over methods and ways to read my puppy's body language and begin to build positive associations with the things he was reacting to. After taking Amie's class, I feel so much more comfortable and confident in being able to read and understand my dog as well as the other dogs he might encounter on walks etc. As far as my puppy goes, the way he regards other dogs has improved remarkably–I can't remember the last time we had a flare up in which he reacted. Amie's class gave my puppy and his classmates a controlled environment in which they could have positive experiences around a wide variety of helper dogs that she made sure to bring in. She was also extremely attentive in reinforcing what we learned in class with weekly emails and additional reading in order to tie together lessons and "real-world" application. I recommend this class to anyone who feels that they need help interpreting their four-legged counterparts and wants to strive for a healthy, communicative relationship with their dog that is backed by science and built on empathic understanding.

~Talia & Sully, Students of Reactive dog class
5 star review on OWB Facebook page
My dog, Mack, and I had a wonderful experience in the Reactive Rover program taught by Amie. Mack had been having problems with leash aggression with other dogs and people, as well as lunging at cars while walking on the busy street in front of my house. I learned a lot about how a dog's mind works and how fears and behaviors develop and the necessary tools to help redirect my dog's attention and energy and feel calmer on our daily walks. My neighbor no longer jokingly calls Mack "that Devil Dog" – so we are making progress! Thanks for the education, Amie!

~ Lisa & Mack, students of Reactive dog class
I was getting Gracie out of her crate tonight for her turn in K9 Nosework. We walked by one of the student's cars with the hatchback open and her large crated dog lunged and barked at us. Gracie hesitated, looked at the dog, then at me and then she kept walking toward the building!!! Then she noticed that another dog was walking around the cars (some stacked triggers there!) and she did a double-take, looked at me and STILL kept walking toward the building. Whatta girl!!!!!!! Keep in mind, before she completed Reactive dog class, she used to lunge at all dogs – even pictures of dogs at the vet's office!

~Beth & Gracie, students of Reactive dog class
Harper became a part of our family about 15 months ago. We discovered how severe her reactivity was after having her for a few months. Taking her for a walk was impossible. She was out of control when she observed, heard or smelled another dog.  The Reactive dog class was referred to me by a friend. 
Amie (the instructor) demonstrated such patience, knowledge and complete understanding of our situation. There was absolutely no judgement. Amie provided us with a lot of detailed information and helped us understand Harper's body language. This was all done in a safe and structured environment. 
I knew this would not be a quick fix. I knew I needed to understand Harper's triggers so I could de-escalate Harper's reactivity. By following Amie's advice we now have a dog who isn't a complete nightmare to walk. I feel confident in my skills to help Harper work through this and be confident around other dogs.


~Laura & Harper, students of Reactive dog class
…and much, much more!