… where your dog learns that there's more to life than being really, really ridiculously good-looking.
Don't have time for a weekly training class?  Does your dog struggle in a class full of other dogs?  Can't seem to get yourself caught up every week?  Do you have more than one dog and not want to pay more than one tuition?  Taking your pup through our basic skills class online gives you as much time as you need to practice each week before progressing to the next lesson, and lets you schedule your dog's "class time" at your convenience – when the kids are napping, before your partner wakes up, or anytime throughout your busy day – and for a fraction of the price!  By the end you'll have a family member who can live peacefully in your home, and a better understanding of how to teach them even more!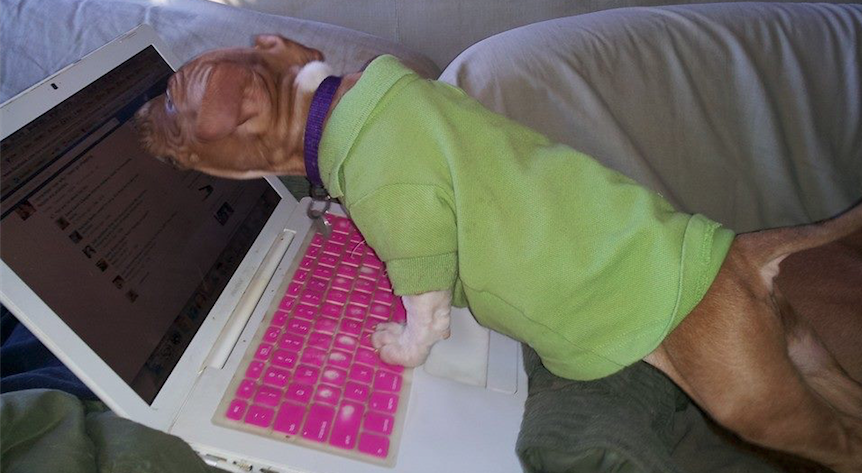 Each week, you'll be sent information about how to access that week's lesson, which will include both written and videoed instruction.  You'll also be given access to a private Facebook page where you can ask questions, get answers from our trainers, and post your own successes.
For the course you'll need:
A dog!  (Beg, Borrow, Adopt or Buy, just be sure it's one you like!)
Treats!  Pick treats your pup really loves – bits of real meat and cheese are usually preferred by the dog and also significantly cheaper than most processed dog treats.  You'll want to cut them up to bits the size of a kernel of corn, even for large dogs, and smaller for littles.
A flat collar for your dog.  This is the type you're probably most used to seeing – it can be buckle, clip-on, or slide over the head.  No prongs, check chains or other corrective collars needed!
A leash for your dog.  6ft or shorter is usually a good length, unless you'll want it to become hands-free eventually, in which case 7 – 8 ft should go around your waist or shoulders and still provide you with length for your dog.  The right leash should be fairly lightweight but strong enough for your dog, and comfortable in your hand.  (by the way, retractable leashes usually fit none of these qualifications)
A mat, towel, pillow, washcloth, dog bed or other obvious place for your pup to learn to rest (an additional option is a crate in which your pup can stand and turn around in comfortably)
Your lessons are as follows:
Lesson 1 – Relax and leash manners
Lesson 2 – Sit and come
Lesson 3 – Drop it and Leave it
Lesson 4 – polite greetings, fine-tuning leash manners
Lesson 5 – Someone's at the door! Mat training, crate training
Lesson 6 – Playing Doctor – prepping for nail trims and vet visits
Ready to start?  Here we go!!!