Household destruction, caterwauling, human aggression – they're all miserable problems to have, and we can help!
But being owned by a cat isn't always a struggle.  Sometimes you just know you've got the smartest little ruler ever, and want to play games, teach him tricks, and have fun together!  We can help with that too!  Teach your cat to sit, high five, fetch, or numerous other tricks – cats are awesome!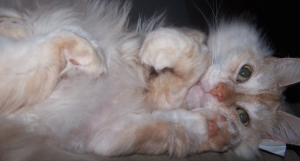 Your brand new couch is in shreds already, the neighbors are complaining about the midnight singing, and you can't even touch your cat for fear of a hiss or worse?  We know how to help!
Cat behavior packages can be found on our page The Full Monty, with a 20% discount offered to Skype sessions.
Reach us at Info@OscarWinningBehavior.com
or 443-516-7227 (that's 443-51-OSCAR)