If one of your buddies is hiding, or worse yet, if they're screaming, there are steps you can take.  The first one is contacting us!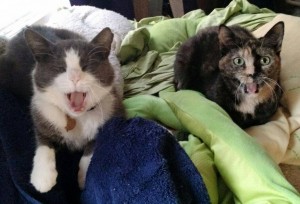 We love cats.  We live with cats.  A LOT of cats.  And it's not always sunshine and harmony.  But when the quarreling outweighs the purring, it's time to take notice.  You want all your little friends to be happy – and we can help.  Whether it's working to repair a broken bond or bringing a new cat into the home, there are steps you can take to turn your tiny lions back into cuddly kittens.
Reach us at Info@OscarWinningBehavior.com
or 443-516-7227 (that's 443-51-OSCAR)
Get The Full Monty about pricing and package information!